The Australian
and New Zealand Flags

The Australian and New Zealand flags go back much further than the 200 years you probably are aware of. Their heraldic symbolism goes back 3,500 years; to the time of Moses and Joshua, the great Israelite (not Jewish) Military-Commanders.

The following are the Standards of the Twelve Tribes of Israel with those of Issachar and Zebulun shown to the right of Judah's.
| | | |
| --- | --- | --- |
| 1. Reuben | 2. Simeon | 3. Manasseh |
| 4. Judah | 5. Zebulon | 6. Issachar |
| 7. Dan | 8. Gad | 9. Asher |
| 10. Naphtali | 11. Joseph/Ephraim | 12. Benjamin |
On Issachar's Standard you will see the sun (representing the British/Israel Throne - Psalm 89:36§); the moon (representing the Commonwealth - which reflects that "sun") and STARS (Deuteronomy 1:10). The moon shown on Issachar's standard is only a crescent moon because Australasia is only a part of the Commonwealth (Genesis 48:19) and not the full moon (full Commonwealth) and there are only a few stars for the same reason. Zebulun's Standard is a ship on the BLUE Sea. The Northern Irish and Scottish (Perth) are from Judah/Zarah of the Red Hand (Genesis 38:26-30). Perth in W.A. was founded by Scottish people from Perth in Scota-land.
| | |
| --- | --- |
| ISSACHAR | ZEBULUN |
§ Psalm 89:35 Once have I sworn by My holiness that I will not lie unto David.
89:36 His seed shall endure for ever, and his throne as "the sun" before me.
89:37 It shall be established FOR EVER as (like) the moon, and [as] a faithful witness in heaven.

If we now look at the flags of Australia and New Zealund. We have the Blue Sea background of Zebulun(d) with the Union of Jack|ob/Israel (Genesis 32:28) in the top left-hand corner, symbolizing the British Throne and Commonwealth (the sun and moon respectively) and the STARS of Issachar on both flags. We have therefore found Issachar and Zebulun - Ze(a) |bu| lun(d).

The stars of Issachar and the ship/s of Zebulun also feature on the New Zealand Coat-of-Arms (shown below), on the top left hand corner and down the center of the shield respectively. The New Zealand Coat-of-Arms also features Joseph's Sheaf (bottom left of shield), which was a significant part of one of the famous God-Given Prophetic dreams he had about his and our time, which is recorded in The Book of Genesis chapter 37 of The Bible. At the top of the Coat-of-Arms there is also featured the British Royal Crown, which has the Twelve Stones of the Twelve Tribes of Israel set around it (Exod. 39:14; Rev. 21:19-20).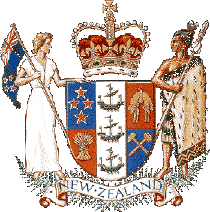 Deuteronomy
33:18 And of Zebulun he said, Rejoice, Zebulun, in thy going out; and, Issachar, in thy tents.
33:19 THEY shall call the people unto the mountain (Gibraltar); there they shall offer sacrifices of righteousness: for they shall suck [of] the abundance of the seas, and [of] treasures hid in the sand (opals, gold, etc.).
33:20 And of Gad he said, Blessed [be] he that enlargeth Gad (Gibraltar): he dwelleth as a lion, and teareth the branch with the crown on his head.
33:21 And he provided the first part for himself, because there, [in] the position of The Lawgiver, [was he] seated; and he came to the heads of the people, he executed the Justice of the "I AM", and His Judgments with Israel.

Australasia, according to God's infallible Prophecies, is about to acquire a new Sovereign. That Sovereign according to Prophecy is going to be Christ in person wearing a new body from the Israelite tribe of Joseph/Ephraim (Genesis 49:10 & 22-24 Authorised Version)(Please see my "On The Way to Emmaus Again" Booklet.).

Now that there is going to be a referendum on a Republic of Australia because the "sun" is becoming darker; so that the "moon" does not reflect its light. The Prophecies are being fulfilled and are coming to the End. The new Australian head of state should be - Christ its TRUE King, if not then they will be punished (Luke 19:27).

Matthew 24:29 Immediately after the tribulation of those days shall the "sun" (British Throne - Psalm 89:36) be darkened, and the "moon" (Commonwealth) shall not give her light, and the "stars" shall fall from heaven, and the "powers of the heavens" shall be shaken:

The Australasians, at this point in time, HAVE TO lose respect for the "House of Windsor" but NOT their own flag in order for the famous ANZAC spirit to rise again and for them to swear allegiance to their King when the Sovereignty and Crown is overturned for the fourth and final time, as quoted from God by Ezekiel 21:27 :-

21:26 Thus saith the Lord "I AM"; Remove the diadem (sovereignty), and take off the crown: this [shall] not [be] the same: exalt [him that is] low (Line of Zarah), and abase [him that is] high (Line of Pharez).
21:27 I will overturn, overturn, overturn, it: and it shall be no [more], [overturned] UNTIL he come whose Right it is; and I will give it [him - Shiloh/Christ (Genesis 49 v 10)].

The first "overturn" was from Jerusalem to Ireland; the second "overturn" was from Ireland to Scotland; the third "overturn" was from Scotland to England. The fourth and final "overturn" is when God takes the Sovereignty from the "House of Windsor" (Judah) and gives it to him whose Right it is (in a body from Ephraim), very soon. If you would like to know more, please see the complete history of The Lia Fail / Stone of Destiny and continue surfing this site.

The Australian and New Zealand flags both contain the Union of Israel (Jack|ob - Genesis 32:28) in the top left-hand corner which belongs personally to Christ (Genesis 49:10) "To him shall the gathering (Union) of the people (twelve tribes of Israel/Jack) be."

Now when you look at the flags you will see why Australians must NEVER change their flag, as the forces of Darkness are fighting to make them do. The Australian and New Zealand Flags have the Southern CROSS on them in the form of Stars.

Directly beneath and therefore supporting the Union Jack on the Australian Flag is the Commonwealth Star that has seven points. Seven in Prophecy is the number representing completeness. Six of those points represent, with their twelve sides (two per point), the Star of David and the twelve tribes of Israel over which David was king. The seven points of the Commonwealth Star - David's with the added seventh point making it and the Commonwealth of Israel complete; as well as supposedly representing the federation of six states, with one point for all the territories; represents Christ united with the twelve tribes - as its true King, the King of kings' - the King of Israel. - JAH.

One point for one person fits better than one point for all the territories; numerically and sensibly. In any case one explanation does not need to negate the other, as they can be complimentary. The territories gathering together to Christ.

Prophecy also tells us that the Australasians (from the East first) will be the FIRST to heed the call and then they will call the others from West (U.S.A.) North (Canada) and South (Africa) to gather together to the King (Isaiah 43:5; Matthew 8:11; Luke 13:29; Deuteronomy 33:18-19 above) in Gibraltar.

Isaiah
43:5 Fear not: for I [am] with thee: I will bring thy seed from the East, and gather thee from the West;
43:6 I will say to the North, Give up; and to the South, Keep not back: bring My sons from far, and My daughters from the ends of the earth;
43:7 [Even] every one that is called by My name: for I have created him for My glory, I have formed him; yea, I have made him.
43:8 Bring forth the blind people that have eyes, and the deaf that have ears.
43:9 Let all the nations be gathered together (Genesis 49:10), and let the people be assembled: who among them can declare this, and show us former things? let them bring forth their witnesses, that they may be justified: or let them hear, and say, [It is] truth.
43:10 Ye [are] My witnesses, saith the "I AM", and My servant whom I have chosen: that ye may know and believe Me, and understand that I [am] He: before Me there was no God formed, neither shall there be after Me.
43:11 I, [even] I, [am] the "I AM"; and beside Me [there is] no Saviour.
43:12 I have declared, and have saved, and I have showed, when [there was] no strange [god] among you: therefore ye [are] My witnesses (Rev. 11), saith the "I AM", that I [am] God.
43:13 Yea, before the day [was] I [am] He; and [there is] none that can deliver out of My hand: I will work, and who can stop it? JAH